An ounce of "prevention" is worth a pound of "cure"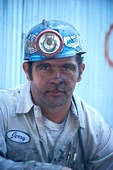 In coordination with the Mel and Enid Zuckerman College of Public Health, the Western Mining Safety and Health Training Resource Center provides resources on mining-specific health and safety topics.
This web page is a resource for those beginning to develop health and safety plans, for those not acquainted with field measurements of exposure-based hazards, and for those who simply require a refresher prior to completing health and safety compliance tasks. In addition to general industrial hygiene topics we offer programatic information on risk management, program effectiveness and more.
Health and Safety training modules and information can be accessed in the menu bar by topic area or in the matrix below. A variety of content is available for your use including:
Training topic overviews
Ready-to-use field data forms
Video instruction (coming soon!)
Health and safety program checklists
If you require further instruction, consulting assistance, or otherwise have input for Safety & Health topics, please contact us.