For supervisors and executives, the Western Mining Safety and Health Training Resource Center offers a Mining 101 Short Course, which provides a comprehensive technical overview of the key topics in mining, ranging from law and policy to mineral extraction techniques. (This course offering is currently in development.) We also offer several topic-specific Clinics and Workshops, including the mentorship-focused Mining Institute for Supervisor Leadership (MISL) and the geotechnical Critical Controls Workshop.
Most of our programs are offered in both online and classroom formats. Our courses can be customized to specific needs of industry partners. For further information on our programs, to inquire about custom supervisor training, or to sign up for a course or workshop, please contact us.
Mining 101 Short Course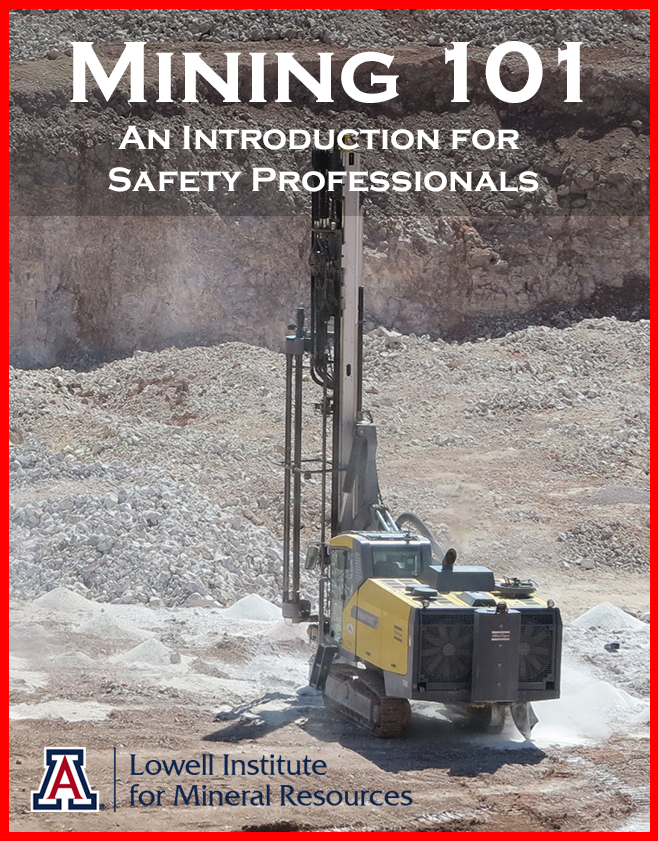 This online, noncredit, tutorial course is being developed to give safety professionals and executives a broader understanding of the mining cycle without the need or time required to pursue a university degree in mining. The course has almost 90 micro-learning modules and over 200 hours of content which are designed around the Mine Trainer Competency Model. The course considers numerous aspects of mining, including: Earth Processes, Mineral Exploration, Supply-Demand, Business of Mining, Mine Development, Mining Methods, Processing, Health and Safety, Environmental Stewardship, and Social License to Operate. Learning modules will be provided to address all sectors of the industry. The module design allows learners drill down on specific content according to their needs.
A joint project with the Lowell Institute for Mineral Resources, the Mining 101 course is currently in development with delivery expected in 2021. The course will be made available through the University of Arizona's Continuing and Professional Education (CaPE) Program.
Download the Mining 101 Syllabus DRAFT (PDF) for more information.
---
Clinics & Workshops
Mining Institute for Supervisor Leadership
Hands On
This unique program focuses on hands-on interactive learning. You will actually practice your new leadership skills.
From Your Industry
Session Leaders are made up of experienced safety professionals and other leaders from the mining industry including coal, metal / non-metal and aggregates.
Mentored
After the workshop, you will be assigned a session leader as a mentor for the next 6 months to help you continue building your leadership skills.
The Mining Institute for Supervisor Leadership (MISL) gathers the expertise of top educators, safety directors, and managers from academia and industry to provide this mining-specific, mentor-focused leadership institute. The MISL offers training to enhance leadership using techniques that balance health and safety with optimized operations. This intensive program includes a 3-day (24 hour) course covering topics such as hazards recognition and mitigation, law and policy, miner physical and mental health, root cause analysis, safety-focused leadership, and supervisor responsibilities. It also covers soft skills for conflict resolution, workplace training and meetings, resource optimization, and team-building. Each topic will be delivered by leaders in mining. Individual participation is required throughout the program; each participant (Mentee) will be assigned two Mentors who will guide the Mentee in applying MISL techniques to work activities through a formal, monthly communication. Note that future offerings of the MISL will use a blended delivery format with principally online interaction coupled with a face-to-face Leadership Outcomes presentation.
Download the MISL flyer and agenda template (PDFs) for more information.
Incident Command, Escape & Rescue Workshop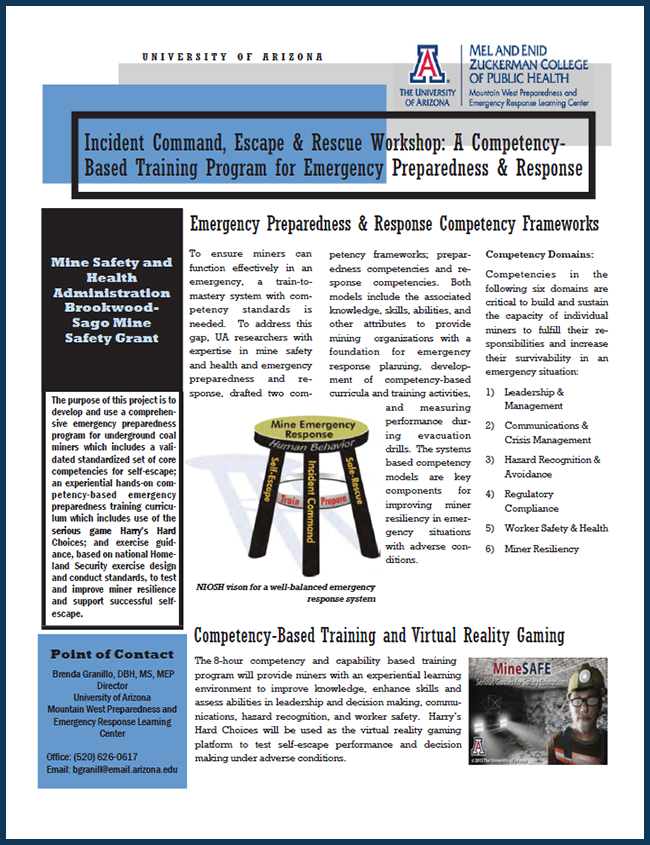 To ensure miners can function effectively in an emergency, a train-to-mastery system is needed with established competency standards. This eight hour workshop provides a hands-on and competency-based emergency preparedness training curriculum. It includes the use of computer-based serious games, such as Harry's Hard Choices, and exercise guidance, based on national Homeland Security exercise design and conduct standards, to test and improve miner resilience and support successful self-escape. The workshop also highlights key social and behavioral responses to high stress situations. The Incident Command, Escape & Rescue Guide is used in conjunction with this workshop. Funding was provided in part by MSHA through the Brookwood-Sago Mine Safety Grants Program.
Download the workshop flyer and agenda template (PDFs) for more information.
Sharing Critical Controls Workshop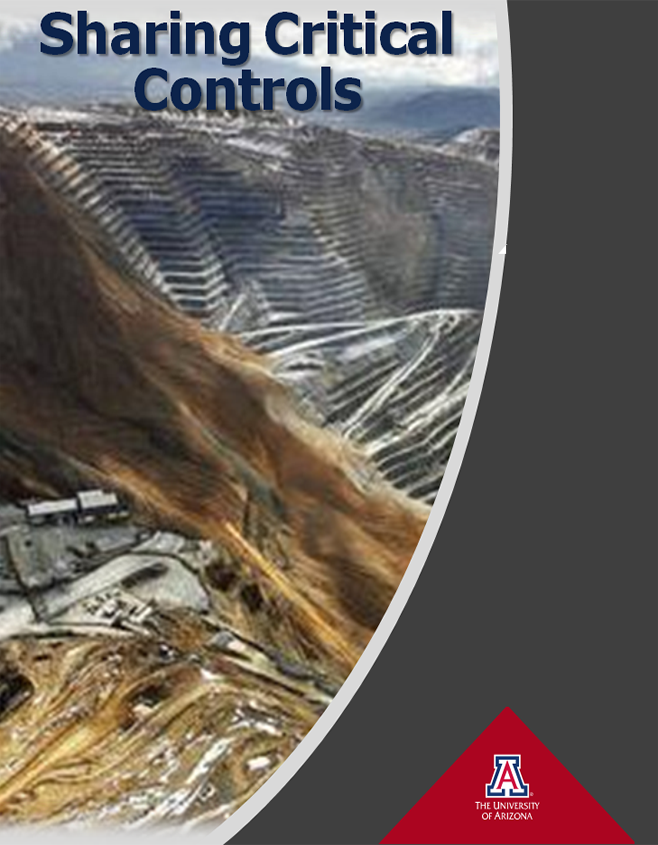 Although the mining industry understands the value of sharing lessons in safety through data collection and reporting on incidents and fatalities, there are few avenues to share strategies on prevention and mitigation. This workshop was designed to address this problem by providing a framework and venue for experts to identify and share the critical controls used in preventing material unwanted events (MUEs). To date, dozens of geotechnical controls have been collected. This workshop presents a five-step process to gather information that includes: Identifying top MUEs, selecting the best controls to prevent them, discussing the characteristics of these controls, documenting them in a standard way, and following-up for post-workshop feedback. Tutorials are provided on the hierarchy of controls with examples of failures. The workshop emphasizes group discussion and brainstorming, with polling apps used to survey answers. Participants will leave the workshop with the latest copy of our critical controls database to share with their organizations.
Download the white paper[1] and agenda template (PDFs) for more information.
Quick Facts: Supervisor Clinics & Workshops
Mining Institute for Supervisor Leadership (MISL)
Incident Command, Escape & Rescue
Sharing Critical Controls
Facilitator
Eric Lutz
Brenda Granillo
Brad Ross
Topics
Hazards Recognition,
Leadership Soft Skills,
Law and Policy,
Miner Health,
Root Cause Analysis,
Supervisor Responsibilities
Crisis Management,
Emergency Preparedness,
Emergency Response,
Self-Rescue
Critical Controls,
Material Unwanted Events,
Mitigation,
Prevention

Length
24 hours (3-day) + 6 month Mentorship
8 hours (1-day)
4 hours (half day)
Format
Blended
Classroom
Classroom, Online
Flyer
Flyer (PDF)
Flyer (PDF)
N/A
Agenda
Agenda (PDF)
Agenda (PDF)
Agenda (PDF)
Resources
N/A
Guidebook,
Game Software
Database,
White Paper
---
Further Reading
Ross, B., Williams, C., Burgess, J., Granillo, B. (2019). "Sharing Critical Controls." SME Annual Conference and Expo, Society for Mining, Metallurgy, & Exploration. Denver, CO.