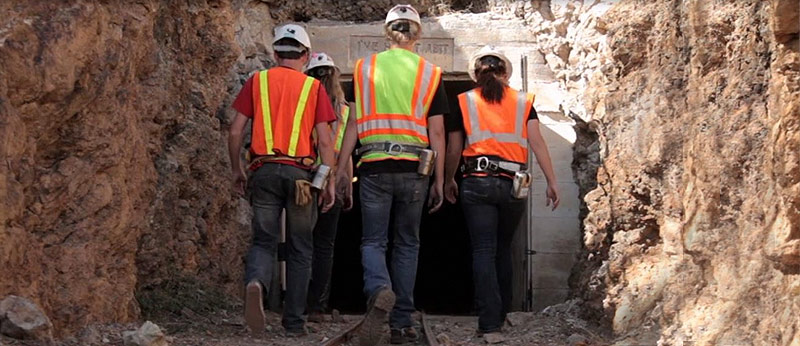 The University of Arizona Western Mining Safety and Health Training Resource Center was established in 2010 by a grant from the National Institute for Occupational Safety and Health (NIOSH) to address the unique challenges of miner safety and health training in western states.
Since its inception, the Center has made significant strides to connect the mining community with mining-relevant information, resources, and methods that increase the capacity and efficacy of safety training. To date, over 150 supervisors, 600 trainers, and 12,000 miner workers, representing over 40 companies and organizations, have been trained through Center's activities. Key initiatives include:
The first validated, mining-specific competency model for trainers. The Center worked closely with industry partners to develop the Mine Trainer Competency Model, which builds upon a framework by the Association for Talent Development (ATD) and incorporates over 30 years of best practices in professional development.

Competency-based training programs and workshops. To meet the diverse needs of mine operators, the Center offers a full range of innovative training programs, from short, topic-specific clinics to semester-long courses. Programs are offered for all levels of the organization, including:

Front line mine workers, through MSHA New Miner (Part 48 Surface and Underground), Annual Refresher, and Mine Rescue Team Training.
Trainers and coordinators, through the Instructional Design Program, Higher Level Training Clinic, and Module-specific Train-the-trainer Workshops.
Supervisors and executives, through the Mining 101 Program, Critical Controls Workshop, and Mining Institute for Supervisory Leadership (MISL).

Active learning-based training resources. The Center has re-designed safety training around the principles of andragogy, or adult education, using best practices in active learning. The Center's training materials emphasize critical thinking, role-playing, group discussion, and consequences. Resources include:

Numerous handbooks and guides, including an active learning handbook, MSHA program guides, emergency preparedness guide, and Spanish Part 46 toolbox.
A modular, interactive card game called Very Good Day, focusing on hazards recognition and the hierarchy of critical controls.
Three computer-based "serious games" called Learn with Harry, focusing on communication, situational awareness, hazards recognition, and fatality events.

Improvements to health training. New training modules are continuously developed to address key cross-sector topics in the National Occupational Research Agenda (NORA). Topics include improving ergonomics, hearing loss prevention, protecting respiratory health, and avoiding heat-related illnesses. The Center has integrated health training into most of its programs and resources.

A multi-level, systems evaluation approach. The Center measures the effectiveness of training through all four levels of Kirkpatrick's Model:

A variety of instruments are used, such as knowledge checks (e.g. clickers, poling apps, and in-class quizzes), competency assessments (e.g. self-assessments, serious games, and job hazard analysis), and holistic evaluation (e.g. andragogical surveys, audits, and follow-ups). Both trainers and learners are continuously assessed.
for inquiries or additional information.
---
Acknowledgements
The Western Mining Safety and Health Training Resource Center is made possible by a grant from the National Institute for Occupational Safety and Health (NIOSH), award 2U60 OH010014-08.