The Western Mining Safety and Health Training Resource Center offers two types of programs for mine safety trainers and allied professionals in learning and development: The Instructional Design Program and topic-specific Clinics and Workshops.
Most of our programs are offered in both online and classroom formats. The Center also provides customized training to meet the specific needs of industry partners. For example, a popular option is to select a subset of topics for training à la carte in lieu of a full workshop. For further information on our programs, to inquire about custom training, or to sign up for a course or workshop, please contact us.
Instructional Design Program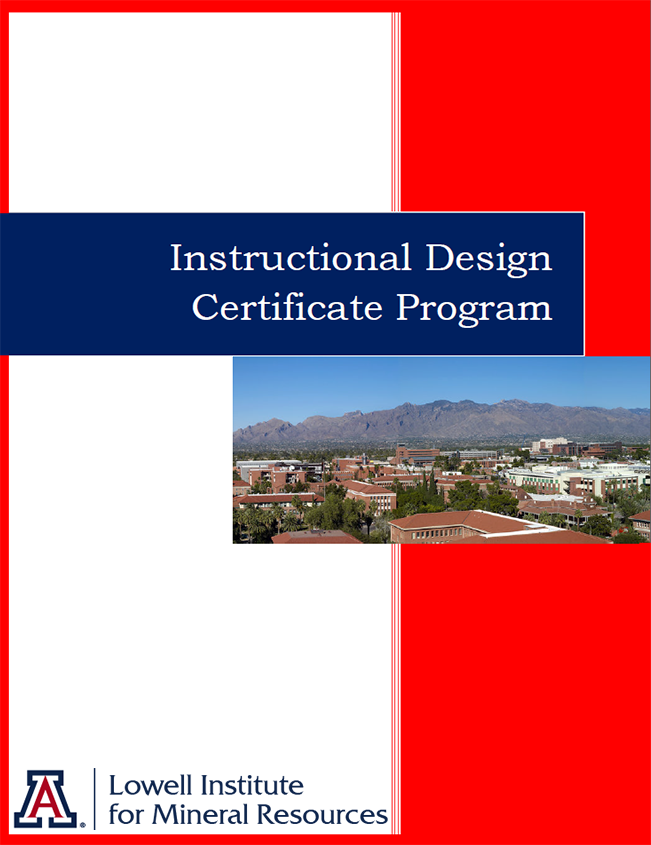 Research in Human Resource Development suggests that "the way training is designed, delivered, and implemented can greatly influence its effectiveness."[1] The Instructional Design Program was developed to address gaps in mine trainer competency relating to learning and development. The program consists of three 13-week courses which cover adult learning theory, active learning, and assessment of training transfer, respectively. The first 12 weeks of each course incorporate learning at a distance, with one hour per week of recorded lecture and one hour per week of live class via web conferencing. The final week incorporates presentations of the capstone project at the University of Arizona campus or at a site convenient to the cohort.
For each course successfully completed, participants will earn four Continuing Education Units (CEUs) through the University of Arizona's Continuing and Professional Education (CaPE) Program. Badges are awarded to students as they advance through the levels of mine trainer competency. New cohorts typically start in Fall term; please contact us for current offerings.
Instructional Design Course
This course focuses on using a systematic and reflective process to translate principles of learning and instruction into plans for instructional materials, activities, information resources, and evaluation. It addresses more than procedural steps in the phases of instructional design, delving into instructional design knowledge and how it relates to a variety of topics that impact the design of instruction. At the completion of this course, participants will be able to create a Detailed Design Plan for a safety refresher course that includes learning objectives, instructional strategies, and assessment methodologies. Students are assessed on their teaching and Detailed Design Plan.
Instructional Development Course
This course provides students with an opportunity to develop new instructional materials as well as to assess and modify existing instructional materials. Students will plan and organize their projects, develop specific content, and develop a finished product including lessons plans, instructor's manual, and practical exercises. At the completion of this course, participants will be able to create safety or technical training instructional materials that align to a Detailed Design Plan. Students are assessed on presentations, instructional materials, and handouts.
Instructional Evaluation Course
In this course, participants learn to assess the effectiveness of learning solutions by: Gathering and organizing data; comparing the data to learning and performance metrics; and presenting the data in a meaningful way to allow informed decisions. The course explores the theories and types of evaluations at the program, system, and organization levels. It considers research design and the application of statistical theories and methods. Students will have the opportunity to develop evaluation instruments and gain new understanding of their reliability and validity. At the completion of this course, participants will be able to establish an evaluation plan for a safety or technical training program and evaluate a safety or technical training program. Students will be assessed through practical exercises and on the design and presentation of their course evaluation plan.
---
Clinics & Workshops
Higher Level Training Clinic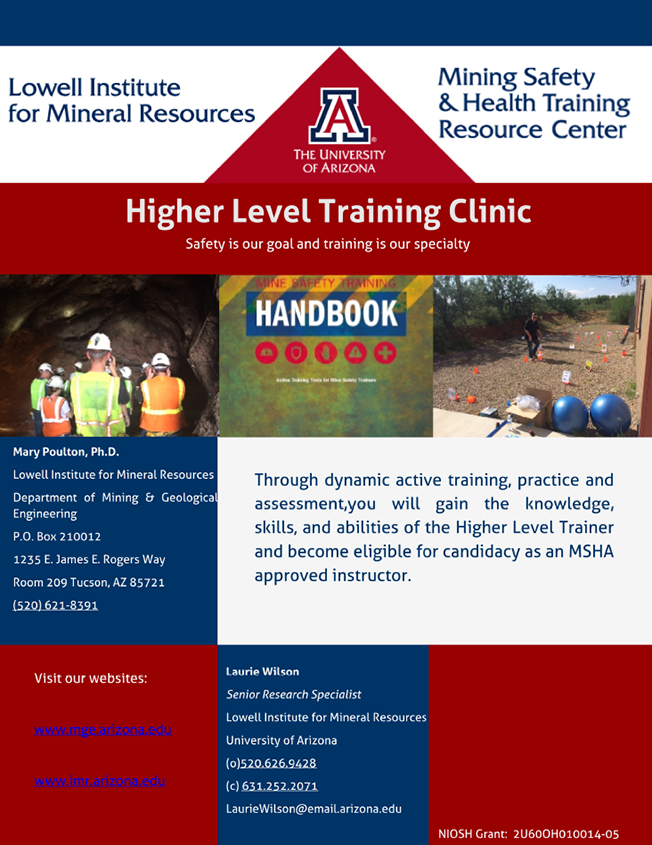 By applying a competency-based learning approach, the Higher Level Training Clinic was developed to increase trainer skills for instructional design and delivery. Although trainers usually understand the goals of training from a pragmatic standpoint, they are often unaware of why and how the quality of their training impacts learners. This three day (24 hour) clinic addresses four key issues that derive from established theories of adult learning: 1) Competency-based instructional design, 2) Active learning techniques, 3) Assessment of training transfer, and 4) Coordinated strategies for engaging English Language learners. Theory is connected with practice through activity design exercises and ready-to-use examples that were compiled from the Center's many active learning resources, including guides, tabletop activities, and serious games.
Download the clinic flyer and agenda template (PDFs) for more information.
Incident Command, Escape & Rescue Workshop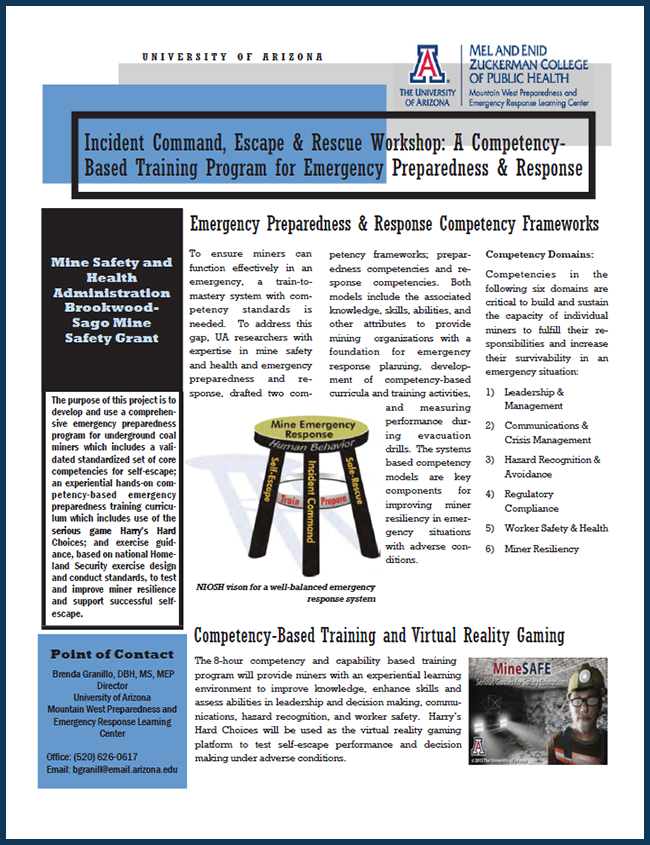 To ensure miners can function effectively in an emergency, a train-to-mastery system is needed with established competency standards. This eight hour workshop provides a hands-on and competency-based emergency preparedness training curriculum. It includes the use of computer-based serious games, such as Harry's Hard Choices, and exercise guidance, based on national Homeland Security exercise design and conduct standards, to test and improve miner resilience and support successful self-escape. The workshop also highlights key social and behavioral responses to high stress situations. The Incident Command, Escape & Rescue Guide is used in conjunction with this workshop. Funding was provided in part by MSHA through the Brookwood-Sago Mine Safety Grants Program.
Download the workshop flyer and agenda template (PDFs) for more information.
Serious Games Training Workshop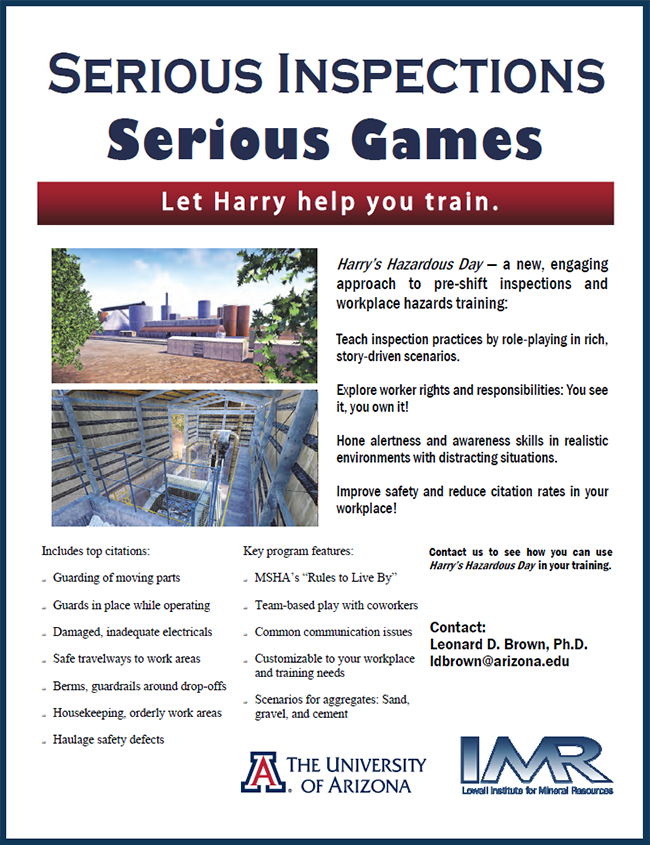 This half-day (four hour) workshop provides an overview on the theory and practice of using serious games in the mine safety training curriculum. Focusing on computer-based serious games, the workshop outlines key improvements in the training workflow and gaming attributes which increase engagement and training transfer. Nine use cases are outlined for serious games, with numerous hands-on examples and empirical results from efficacy testing. Featured training topics include workplace examinations, hazards recognition, and hazards mitigation. Stealth assessment — evaluating learner competency and identifying performance patterns in gameplay — is specifically addressed. The fundamental research for this workshop was conducted over a ten year period in collaboration with the Lowell Institute for Mineral Resources.[2]
Download the workshop flyer and agenda template (PDFs) for more information.
Quick Facts: Train-the-Trainer Clinics & Workshops
Higher Level Training
Incident Command, Escape & Rescue
Serious Games Training
Facilitator
Laurie Wilson
Brenda Granillo
Leonard Brown
Topics
Active Learning,
Competency Models,
Instructional Design,
Language Learners,
Learner Assessment
Crisis Management,
Emergency Preparedness,
Emergency Response,
Self-Rescue
Inspection Training,
Instructional Design,
Hazards Training,
Serious Games,
Stealth Assessment

Length
24 hours (3-day)
8 hours (1-day)
4 hours (half day)
Format
Classroom, Online, Blended
Classroom
Classroom, Online
Flyer
Flyer (PDF)
Flyer (PDF)
Flyer (PDF)
Agenda
Agenda (PDF)
Agenda (PDF)
Agenda (PDF)
Resources
Guidebooks,
Tabletop Activities,
Game Software
Guidebook,
Game Software
Game Software
---
Further Reading
Salas, E., Tannenbaum, S.I., Kraiger, K., & Smith-Jentsch, K.A. (2012). "The Science of Training and Development in Organizations: What Matters in Practice." Psychological Science in the Public Interest, 13(2), pp. 74-101. https://doi.org/10.1177/1529100612436661
Brown, L. D. (2015). Design, Evaluation, and Extension of Serious Games for Training in Mine Safety. Ph.D. Dissertation, Dept. of Computer Science, Univ. of Arizona, Tucson, AZ. Available at Univ. of Arizona Libraries