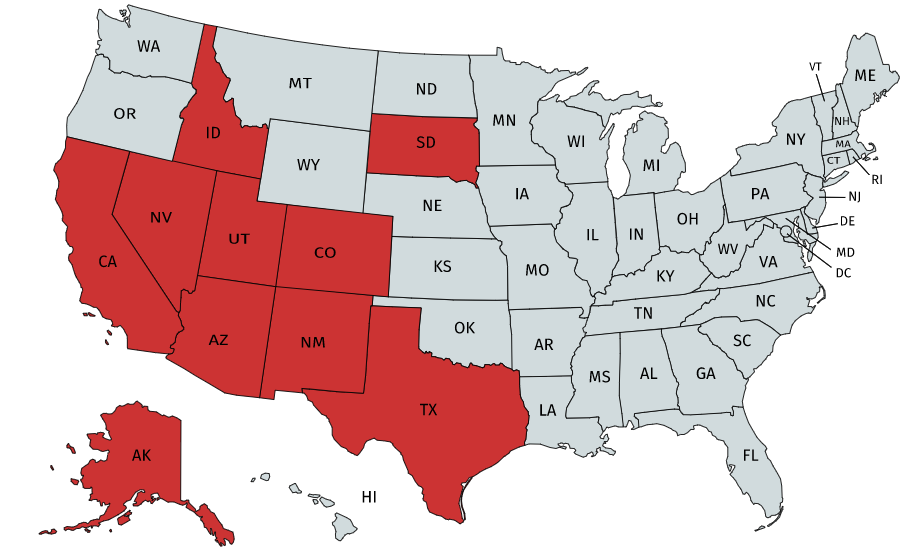 The Western Mining Safety and Health Training Resource Center works with industry and academia to improve miner health and safety through new partnerships and knowledge-sharing initiatives.
Learning Laboratories
The Center is developing mentor-lead Learning Laboratories that emphasize continuous improvement and evaluation of training outcomes. This structured program will provide our industry partners with a new forum to share knowledge and best practices in health and safety and a coordinated framework for evaluation of training resources, trainer instruction, and worker competency. For example, our up-coming industrial athlete warm-up program is a direct result of knowledge sharing through the Learning Laboratories initiative. With an emphasis on Mentorship, we also are working to increase leadership training resources for supervisors and HSE personnel to facilitate this program.
Learning Laboratories will afford new opportunities for industry to move beyond compliance-focused training and toward competency-based, continuous workforce improvement. The Center is actively developing resources and strategies to add "micro training" and competency assessment into everyday meetings, such as pre-shift tailgates and safety briefings. New initiatives include the use of short gaming activities, challenge apps, and quizzes that can capture a snapshot of daily safety competency. The labs' new evaluation framework and Mentorship program will give our partners a more complete picture of their workforce health and safety.
Industry Partnerships
Industry partnerships form the backbone of our health and safety programs. The Center has more than a dozen partners representing all sectors of the mining industry. These include operators in Metal / Non-Metal (7), Aggregates (4) and Coal (2), as well as numerous professional organizations (labor and trade), a government agency, and a training vendor. Our partners represent many states and worker demographics throughout the Western U.S., including Alaska, Arizona, California, Colorado, Idaho, Nevada, New Mexico, South Dakota, Texas and Utah. These states are highlighted in dark red in the chart above. Cumulatively these organizations employ over 100 trainers and 10,000 mining industry personnel. We continuously seek to expand the Center's reach and form new industry partnerships; if interested, please contact us.

Participating Industry Partners

| | | | | |
| --- | --- | --- | --- | --- |
| Arizona Rock Products Association | Phoenix, AZ | Trade | Link | Trade organization representing aggregates producers throughout Arizona. |
| Arizona State Mine Inspector | Phoenix, AZ | Government | Link | The inspector's office oversees the safety and regulation of active and inactive mines in Arizona. |
| ASARCO (Grupo Mexico) | Ray Mine, AZ | Metal | Link | Surface copper mine located 64 miles southeast of Phoenix. The operation typically employs over 1,000 workers. |
| Bisti Fuels | Navajo Mine, NM | Coal | Link | Surface coal mine located approximately 20 miles southwest of Farmington. The operation employs over 360 people. |
| Coeur Mining | AK, NV, SD | Metal | Link | Gold producer with surface (Rochester, NV and Wharf, SD) and underground (Kensington, AK) operations employing over 850 workers. |
| Drake Cement | AZ | Aggregates | Link | Surface limestone and cement plant near Paulden, AZ, with over 100 employees. |
| Equinox Gold | Mesquite Mine, CA | Metal | Link | Surface heap leach gold mine located near Brawley, CA. The mine employs over 200 workers. |
| Freeport-McMoRan | AZ, Multiple locations | Metal | Link | Large producer of copper and molybdenum with multiple sites located in southern Arizona. |
| Hecla Mining | Lucky Friday Mine, ID | Metal | Link | Deep underground silver mine located 50 miles southeast of Coeur d'Alene, ID. The mine anticipates employing over 300 workers. |
| International Union of Operating Engineers | Washington, DC | Labor | Link | Trade union headquartered in Washington D.C. The organization represents operating engineers with approximately 400,000 members. |
| McCraren Compliance | Tucson, AZ | Training Vendor | Link | Training and consulting company located in Tucson, AZ. The company offers MSHA New Miner and Refresher training, as well as OSHA and DOT training. |
| Rio Tinto | AZ, UT | Metal | Link | Major copper producer with surface and underground mines in Utah (Kennecott) and Arizona (Resolution), respectively, employeeing over 1000 miners. |
| Salt River Materials | AZ, CA, CO, NM, NV, UT | Aggregates | Link | Supplier of concrete products headquartered near Scottsdale, AZ. The company owns dozens of operations throughout the southwest. |
| Silica Sands | Fort Worth, TX | Aggregates | Link | Producer of fracking sand for oil and gas operations with a surface mine and dry plant in San Antonio, TX. |
| South32 | Hermosa Mine, AZ | Metal | Link | Underground zinc, lead, and silver mine approximately 50 miles southeast of Tucson, AZ. The mine is currently in development. |
| Vulcan Materials | AZ, Multiple locations | Aggregates | Link | Large supplier of construction materials across the American sun belt. Arizona currently hosts 32 operations. |
| Westmoreland Coal | San Juan Mine, NM | Coal | Link | Underground coal mine located approximately 10 miles west of Farmington, NM. The mine employs close to 300 workers. |
Academic Partnerships
The Center is located in and administered by the University of Arizona's Mel & Enid Zuckerman College of Public Health, whose faculty and staff, including the Department of Community, Environment & Policy, have made major contributions to the health and policy aspects of our Center. The Center also works closely with numerous other institutes, departments, and colleges within the University of Arizona, including:
The Center is actively engaged with faculty and researchers at the Lowell Institute for Mineral Resources, including the Geotechnical Center for Excellence and the International Safety, Health, and Risk Center of Excellence. These centers provide invaluable technical expertise on training materials, and they assist us in expanding the reach of our industry training partnerships. The San Xavier Mining Laboratory, as the only student-run multi-level mining facility in the U.S., provides a venue for surface and underground training courses as well as a testbed for piloting new training resources and instructional technologies. The Safety and Health Technical Advisory Committee (TAC), through its deep industry connections, has long been an indispensable resource to keep the Center at the forefront of current safety needs, trends, and hot topics within the mining industry.
The Center also collaborates with other Universities within academia, sharing technical expertise and providing program resources for miner health and safety. Our current partners include the Colorado School of Mines and the South Dakota School of Mines and Technology. If your academic department is interested in collaborating with us on a training research initiative, please contact us.
Participating Academic Partners

| | | | |
| --- | --- | --- | --- |
| Colorado School of Mines | Energy, Mining, and Construction Industry Safety (EMCIS) Program | Link | The EMCIS Program is part of the Department of Mining Engineering and offers an extensive program in safety and health, including MSHA certification courses, new training materials, and engineering consultation. The Program focuses on improving safety for contractors and other under-served segments of the industry. EMCIS is a longtime collaborator on NIOSH-funded research projects. |
| South Dakota School of Mines & Technology | MSHA State Grants Program (SD) | Link | An initiative of the Department of Mining Engineering and Management, this MSHA state grants recipient provides certification courses to South Dakota mines at three training sites dispersed throughout the state. |
---