Professional Development for Mine Safety Trainers
The Western Mining Safety and Health Training Resource Center provides professional development opportunities to mine safety trainers through several on-going projects. These projects are directed by specialists in adult education, human resources development and vocational training. All professional development opportunities and materials for trainers are tailored to meet the specific needs of the mining industry.
Background
More than $100B is spent by US companies each year on training. Mining companies spend millions of dollars each year on training, including MSHA required courses such as annual refresher; yet illnesses, injuries, and accidents continue to occur. Research from other industries suggests that active learning can result in increased training effectiveness and reduction in health and safety incidents.
The Western Mining Safety and Health Training Resource Center partners with both large and small mine operations representing major commodity sectors, a state agency, and a private training company, who cumulatively train more than 3,000 individuals representative of the broader mining community (e.g., young/old, new/experienced, native English speakers/English language learners, working in a variety of positions, from laborer-to-contractors-to-management, and across many commodity sectors in both surface and underground). These partnerships inform all professional development opportunities for mine safety trainers that are offered through the Resource Center.
Professional development opportunities incorporate effective training methods and curriculum design to include active and engaging training while simultaneously meeting MSHA requirements.
Resources and current projects
MSHA Train the Trainer
This is a 3 day course in which candidates will be given required training to allow them to possible be approved, by MSHA, as an instructor. The training course covers a variety of subjects that is specific to 30 CFR Part 48. They will be required to stand in front of the group and give two presentations. One of their own choosing and the other one is a subject that is required.
For more information please contact Laurie Wilson.
High Level Training Course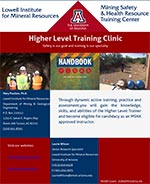 With the application of competency based learning, the High Level Training course is designed to further increase the skillset of health and safety trainers in mining. Trainers often understand the goal of the training but might not be aware of why or even the extent in which the quality of their training can affect trainees. The High Level Training Course is designed to further explain active learning techniques, competency based learning, and deploying strategies for the English Language Learner.
Download the HLT flyer for more information.
Mine Safety Training Handbook: Active Training Tools for Mine Safety Trainers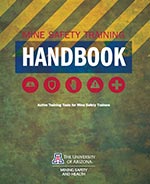 The handbook includes activities for improving trainees' motivation, group dynamics and transfer of safety knowledge to the mine site. The handbook also includes active learning exercises for use in mandated training courses.
Download the Mining Safety Training handbook.
Student Guide: The student guide provides information for students to follow during instructor-led-training along with reference materials outside of the classroom. The material include all of the 30 CFR part 48 training requirements, underground coal as well as surface metal non-metal.
Facilitator Guide: The facilitator guide provides all the requirements for proper instruction under the 30 CFR and part 48 training requirements. It's designed to assist instructors with a consistent training course while utilizing successful adult learning techniques in training. The facilitator guide contains all aspects needed to instruct including pre and post tests, modular assessments to check for understanding, hands on activities with detailed lesson plans, a presentation and suggested techniques, and the students view of their guide for easy use. The modular framework of the course allows for flexibility of instruction and insertion of all site specific policies and guidelines.